Combat Stress' specialist treatment doesn't just change lives, it saves them too.
For over a century Combat Stress have been helping former servicemen and women deal with issues like post-traumatic stress disorder (PTSD), anxiety and depression. Today we provide specialist treatment and support for veterans from every service and conflict focusing on those with complex mental health issues related to their military service.
Veterans with these conditions need a specialist team made up of different mental health professionals to help them and we provide this. Our clinicians work closely with each other to make a treatment plan for each veteran that is unique to them.
If you are a veteran or are a family member or carer worried about the mental health of a loved one, please contact our free 24-hour Helpline on 0800 138 1619. Alternatively, text 07537 173683 (standard charges may apply for texts) or email helpline@combatstress.org.uk.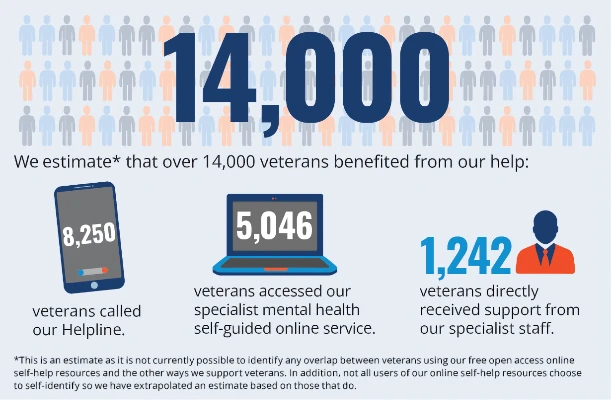 Our Photographer
Photographer Tom Skipp has donated his time free of charge to Combat Stress as he wanted to raise awareness of mental health following the death of his best friend. He says:
"I approached Combat Stress to offer my photography services free of charge as I felt it was important to help people more fully understand the mental health challenges some former military personnel can face. Regrettably this can lead to some of them taking their own lives - something I feel very passionately about since the death of my best friend by suicide. I've previously worked on a project highlighting the work of suicide prevention volunteers in Bristol and working with Combat Stress was a further insight into the realities and impact of living with a serious mental health issue."
"I hope these new images will help more people understand the invisible impact serving your country can have on some. For some, life as we know it is never the same."
Tom Skipp - tomskipp.com
Meet the Veterans
This campaign documents five veterans, aged from 33 - 64, who served in conflicts including the Falklands, Bosnia, Northern Ireland and Afghanistan. Watch short video interviews with each veteran and explore their life stories from enlisting through to being treated by Combat Stress and the challenges they face on civvy street living with PTSD.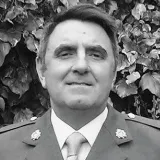 Brian
Aged 64, completed 42 years of military service, with tours of Northern Ireland, the Falklands, Belize, Balkans, Sierra Leone, Angola, and Iraq. All of which had a significant impact on his mental health. He now lives in Dorset.
I found the smell of something like a BBQ extremely difficult and I had to avoid them.
Sometimes I will dive to the ground. It can be very distressing and embarrassing.
After 26 years of regular service, and 16 years in the reserves, Brian was medically discharged from the Armed Forces. It got to the point where Brian contemplated taking his own life by ramming his car into a wall.
Brian was diagnosed by Combat Stress with Complex PTSD with co-morbid depression. He took part in a two-week treatment programme in January 2014 where he began to accept and come to terms with his mental health condition. In March that year he undertook the charity's PTSD intensive treatment programme.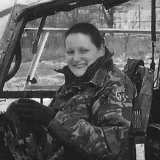 Davina
Aged 46, grew up in Northern Ireland and joined the Army Air Corps aged 23. She served for four and half years as a regular and a further two and a half as a reserve, including in Bosnia, Cyprus, and the Middle East. She now lives in Epsom.
Woods were always something we had to avoid in Bosnia, always had to stick on hardstanding - you could never go on grass.
Whether I'm going under or over a bridge I feel a pang of anxiety, because part of me thinks "I hope this doesn't blow up"
Davina found the transition to civvy street very tough, coupled with the recent deaths of her mother, father and divorce from her husband.
She began to have visions that she was still in Bosnia. She started suffering with sleep deprivation and nightmares. She contacted a sleep psychologist who discovered that she was sleeping like she would have been in the guard room - always on high alert. The psychologist explained to her about PTSD and encouraged her to call Combat Stress.
Davina still benefits from our Peer Support Service today.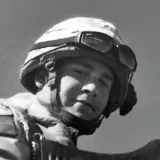 Garry
Garry, who is 33, joined up as soon as he could when he left school, serving with the Royal Artillery, 4th Regiment and undertaking two tours of Afghanistan between 2007 - 2008. He left the military aged 23. He now lives in Scotland.
The challenge I face is getting out of the house every day.
I've missed quite a lot of social functions like weddings because I don't feel I can integrate with a bunch of people, which is pretty horrible.
There were two incidents in Afghanistan that triggered Garry's mental health issues. The first was when an IED exploded right behind him, and the second was when his mate got hit with shrapnel - he survived, but it really stuck with him.
Garry was later posted to North Yorkshire, and joined the Flying Gunners before leaving the military in 2011, aged just 23, as he'd had enough.
After leaving, Garry's aggression became really bad, and he was in a constant state of hyperarousal. Everything came to a head three years ago on Bonfire Night, when all the fireworks made him feel like he was back on the battlefield.
Combat Stress helped Garry rekindle his passion for art and he is now fulfilling his dream of becoming a tattoo artist and being commissioned for his artwork.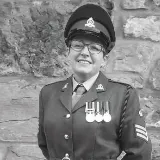 Rebecca
Joined the Army Reserves when she was 30. During her 18 years of service she completed two tours in Afghanistan, where she worked as a ward master at the Camp Bastion Hospital. She now lives in Scotland.
I couldn't watch the news for a long time… We were having terrorist attacks like the Manchester bombing and then there was an incident on the bridge in London. I remember watching that and I had to leave work - I just couldn't cope.
The first time it happened to me, I was in the car and the emergency services were trying to overtake me, and I had a panic attack.
Rebecca enjoyed her service, but the nature of her role meant that she saw/heard some awful things, and was involved with/exposed to all the incidents and casualties that came in, because they were logged on a computer system in real time; and she could see everything that was happening on one screen.
This left her in a state of constant high alert, but also feeling guilty because she was powerless to resolve everything there and then. Rebecca began noticing her mental health problems while she was stationed in the UK and working full-time for the Army in 2016. She was thinking very negatively and started feeling like she couldn't cope. She decided to leave and distance herself from the Army. And was soon battling with suicidal thoughts, and sometimes used to imagine crashing her car into a wall just to escape.
She went to her GP for help, who suggested Combat Stress, and in 2017, Rebecca was diagnosed with complex PTSD and started having one-to-one sessions with a member of the community mental health team. At the start of 2018, Rebecca was offered a place on the charity's PTSD intensive treatment programme, learning techniques to manage her mental health issues.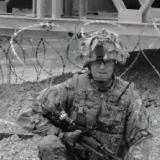 Craig
Aged 48, joined the Army when he was 16 years old. Serving for 23 years, he completed tours of Northern Ireland, Bosnia, Kosovo, Iraq and Afghanistan. He now lives in Essex.
Certain smells can set me off. There's an oil refinery on the way to work. At certain times, mainly in hot weather, the smell of the oil can stir up emotions of being back in Iraq…
[Working in the control room at DP World's London Gateway port] brings its own challenges for me. The noise levels and the stress levels can be particularly difficult.
Craig joined the Army in 1990, at the age of 16. His tours included Belfast, Bosnia, Kosovo, Iraq and Afghanistan.
When Craig returned to civvy life, his state of hyperarousal meant that he found himself walking backwards down the street, in order to be on high alert. He later turned to alcohol and began to find home life difficult. He became aggressive, had night terrors, and even became homeless as a result of his mental health problems.
Following his diagnosis of PTSD from Combat Stress, Craig recognised that it wasn't him, that he had a condition that can be managed with the right tools. For Craig, it is pottery making that has helped him turn his life around.